Robert Allan Caro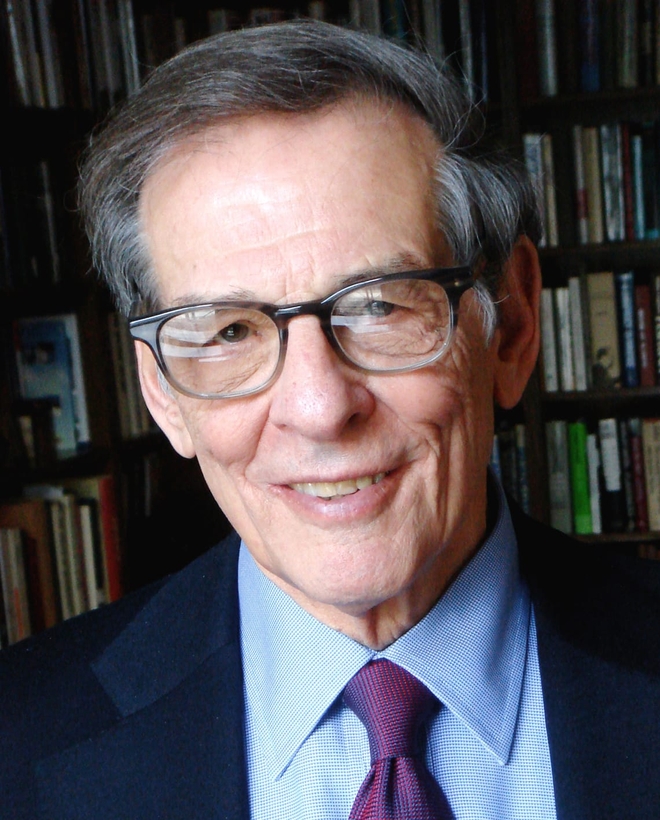 Robert Allan Caro
Doctor of Letters
In awarding the 2023 honorary degrees, President Peter Salovey read the following personalized citation.
Brilliant chronicler of Robert Moses and President Lyndon Johnson, you have immersed yourself in historical research, pursuing every lead and exploring every line of every source, to illuminate two of the most complicated and multifaceted personalities of our age. With integrity and perseverance, you have devoted your life's work to reveal the mechanisms of power through an intimate understanding of those who wield it. For illuminating the way in which galvanizing figures have shaped our society, we are honored to welcome you into the Yale family with the doctor of letters degree.
Robert Caro—whose trademark combination of investigative journalism techniques, indefatigable historical research, and brilliant writing have cemented his place as the greatest of all living biographers—is a two-time recipient of the Pulitzer Prize and has won virtually every other major literary honor over the course of his distinguished career. He is known for his dazzling virtuosity with words and for his immersive approach to exploring his subjects. In 2010 he received the National Humanities Medal from President Barack Obama, who cited Caro's breakout 1974 work, The Power Broker, as having shaped his way of thinking about politics.
Born and raised in New York City, Caro was still a young boy when he began to cultivate his interests in journalism and history. In elementary school he was drawn to the mimeograph room, where he self-published a school newspaper, and on the weekends he was a frequent visitor to the New-York Historical Society and the American Museum of Natural History. He attended the Horace Mann School and then Princeton University, where he majored in English and served as managing editor of The Daily Princetonian. After completing his education, he took a job as a newspaper reporter in New Jersey and later spent six years as an investigative reporter for Newsday.
"The best advice I ever received was from a tough old-time editor when I told him I didn't know anything about the investigative reporter job he had just assigned me to. 'Just remember,' he said. 'Turn every page. Never assume anything. Turn every goddamned page.'"
It was during a fellowship at Harvard's Nieman Foundation for Journalism that Caro began to develop his ideas for The Power Broker: Robert Moses and the Fall of New York, a biography of the influential New York City public official (and 1909 Yale College alumnus) whose vast reach and calculated navigation of the city's political system reshaped the urban infrastructure and landscape. The book, designated by the Modern Library as one of the hundred greatest nonfiction books of the twentieth century, earned Caro his first Pulitzer Prize in Biography (in 1975) and the Society of American Historians' Francis Parkman Prize, awarded to the book that best "exemplifies the union of the historian and the artist." It became essential reading for those seeking to understand the history of New York City and participate in an informed citizenry. It was followed, in 1982, by Caro's publication of The Path to Power, the first volume of his biographical masterwork, The Years of Lyndon Johnson. In his quest to uncover the former president's life story, Caro relocated to Johnson's rural Texas birthplace, lived there for three years, and conducted extensive interviews with those who had known him. Subsequent installments were Means of Ascent (1990); Master of the Senate (2002), which received the Pulitzer Prize in 2003; and The Passage of Power (2012). Caro is currently working on the series' fifth and final volume.
For his unflagging commitment to uncovering truth and revealing sources of power, showing how the world is shaped around us, Caro has been recognized not only with two Pulitzer Prizes, but also with two National Book Awards, three National Book Critics Circle Awards, and the Gold Medal in Biography from the American Academy of Arts and Letters, among many other honors. This year he received the Bodleian Medal from Oxford University. He is a member of the American Academy of Arts and Letters and of the American Academy of Arts and Sciences, and was designated a "living landmark" by the New York Landmarks Conservancy. In 2019 the New-York Historical Society acquired the Robert A. Caro Archive, which will be open to researchers in early 2024; a window into the archive's treasures is on view in the society's  permanent exhibit "Turn Every Page."
Caro, a life-long New Yorker, lives on Manhattan's Upper West Side with his wife, the writer Ina Caro.
Photos courtesy of Joyce Ravid