Deborah Willis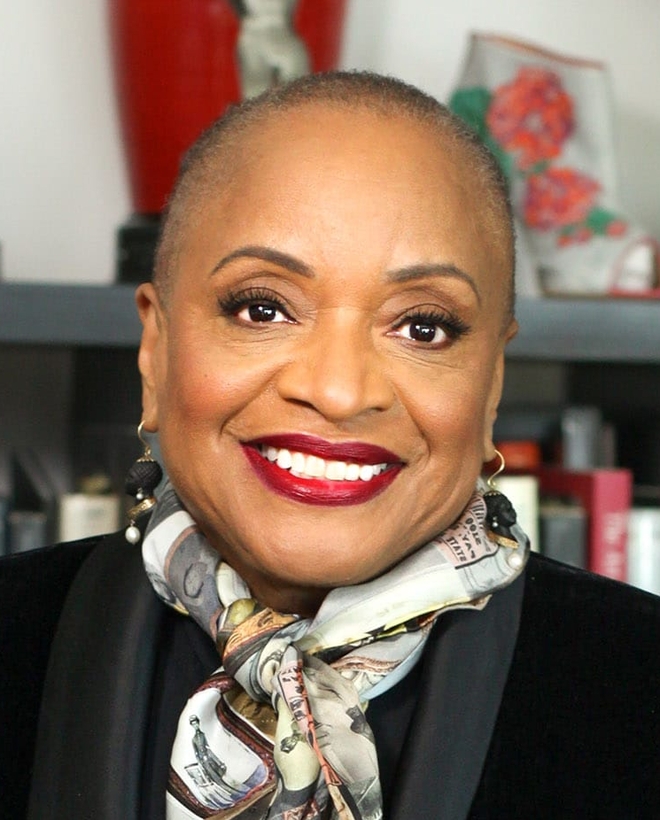 Deborah Willis
Doctor of Humanities
In awarding the 2023 honorary degrees, President Peter Salovey read the following personalized citation.
Photographer and sublime visual artist, with a keen eye and a deep sense of context, you have given us a legacy of images that explore, document, and celebrate the African American experience. With indomitable will, you have labored to preserve the memorable work of artists which otherwise might have been lost to history. For "reframing" our perceptual understanding and helping us to "see" better that visual culture can play a part in social change, Yale is privileged to confer on you the degree of Doctor of Humanities.
Deborah Willis—the esteemed photographic artist and historian whose research and publications have been foundational to the scholarly study of African American photography—is a University Professor at New York University, chair of the Department of Photography & Imaging at NYU's Tisch School of the Arts, and director of the university's Center for Black Visual Culture. A prolific author of books on photography, she has dedicated her life's work to studying, curating, and celebrating images that reveal the world through African American eyes.
The seeds of Willis's career were sown in earliest childhood. Born in Philadelphia, she was raised in a family that celebrated the arts, and her curiosity was piqued by her father's interest in photography. She studied at the Philadelphia College of Art, from which she earned her bachelor of fine arts, and the Pratt Institute, where she received a master of fine arts. She would later complete a master of arts in art history at the City University of New York and a doctorate in cultural studies from George Mason University. Her first publication, Black Photographers, 1840–1940: An Illustrated Bio-Bibliography, grew out of her research as an undergraduate student. It broke new ground as the first book to comprehensively document the history of Black photographers in the United States, shining a spotlight on their presence from the very inception of the medium.
"Always remember that the arts are essential. Art teaches us that every life has value. Continue to uncover new interpretations in the archive, explore the arts, science and social justice; continue to make a difference in our world…and help to make our future secure. Possibilities move us."
Ever since, Willis has pursued a multifaceted professional career as an art photographer, a teacher of photography and cultural history, one of the nation's leading historians of African American photography, and a curator of African diasporic cultures. Prior to joining NYU, she served as curator of photography at the New York Public Library's Schomburg Center for Research in Black Culture, as exhibitions curator for the Smithsonian Institution's Center for African American History and Culture, and as the Lehman Brady Visiting Joint Chair Professor at Duke University and the University of North Carolina at Chapel Hill. In addition to making art, writing, and teaching, she has served as a consultant to museums, archives, and educational centers, and on media projects including the documentary Question Bridge: Black Males and the PBS series American Photography: A Century of Images. Willis is a co-producer of the 2014 film (based on her book Reflections in Black) Through a Lens Darkly: Black Photographers and the Emergence of a People, which received a documentary planning grant from the National Endowment for the Humanities.
For her transformative work examining photography's complex histories, visual culture, contemporary women photographers, and beauty, Willis has earned numerous honors including a MacArthur Fellowship "genius grant" (2000) and a Guggenheim Fellowship (2005). She also was a recipient of the Richard D. Cohen Fellowship in African and African American Art at Harvard University's Hutchins Center for African & African American Research, and of the Alphonse Fletcher, Jr. Fellowship. In 2019 she was the Robert Mapplethorpe Photographer in Residence of the American Academy in Rome, and in 2022 she was awarded the Don Tyson Prize for the Advancement of American Art by the Crystal Bridges Museum in Bentonville, Arkansas.
Willis, who lives in New York City, is married to Hank Thomas, a musician and scientist. Their son, Hank Willis Thomas, is a conceptual artist, also based in New York, with whom Willis gave a 2017 TED Talk about their shared bond as artists.
Photos courtesy of Laylah Amatullah Barrayn and Ketchum Studios