Lonnie G. Bunch III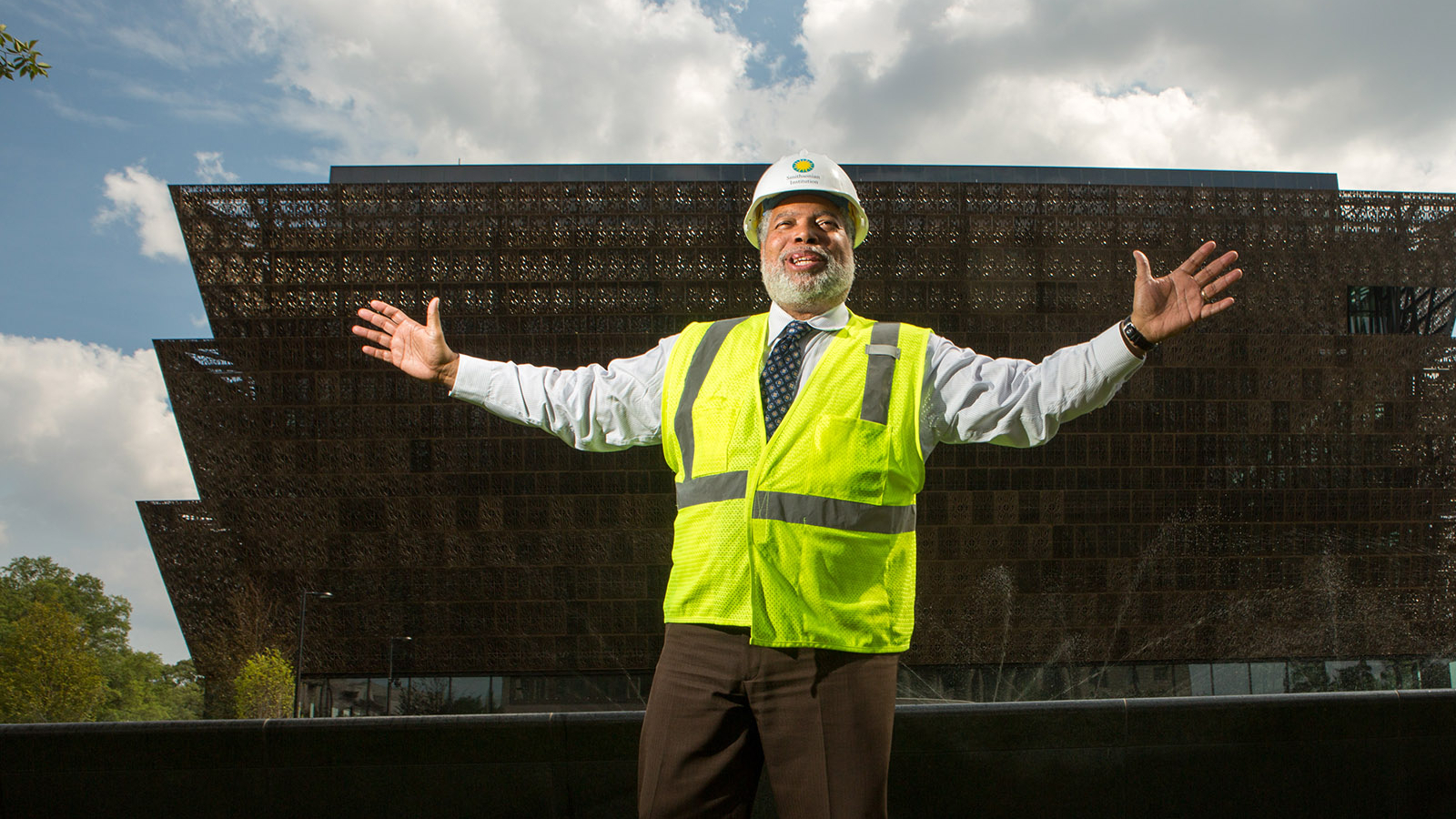 Lonnie G. Bunch III
Doctor of Humane Letters
In awarding the 2023 honorary degrees, President Peter Salovey read the following personalized citation.
Secretary of the Smithsonian Institution, renowned historian, and bold educator, you were the visionary force in establishing the National Museum of African American History and Culture, whose holdings remind us that a people's journey is a nation's story. Your accomplishments as curator and leader are matched only by your passion for preserving the stories that need to be told, heard, and remembered. Guardian of our national treasures, we Lift Every Voice as we declare you, yourself, a national treasure, and proudly confer on you the degree of Doctor of Humane Letters.
Lonnie G. Bunch III—the eminent curator, historian, and educator behind the National Museum of African American History and Culture in Washington, D.C.—was named the fourteenth secretary of the Smithsonian Institution in 2019. Over a more than forty-year career as one of the nation's most distinguished public historians, he has worked to transform our understanding of U.S. history and illuminate the individual and collective stories that otherwise might be left untold. His role at the Smithsonian includes oversight of twenty-one museums and twenty-one libraries; the National Zoo; numerous centers for education and research; and two new museums currently in development: the National Museum of the American Latino and the Smithsonian American Women's History Museum.
Growing up in the Newark suburb of Belleville, New Jersey, Bunch was the son of schoolteachers and discovered his fascination with history at an early age. He recalls reading biographies as a junior high school student and wondering why none of them were about African Americans; when he found a book belonging to his grandfather on the history of Black soldiers in World War I, he "devoured it" and then sought out the stories of historic figures including Frederick Douglass and Sojourner Truth. Bunch began his undergraduate career at Howard University before transferring to the American University in Washington, where he earned his undergraduate and graduate degrees in American and African American history.
"Make no little plans."
Bunch, who first visited the Smithsonian as a boy with his father, held his first professional job there, as an education specialist for the institution's National Air and Space Museum. He would go on to teach for several years, eventually moving to Los Angeles to serve as founding curator of the California African American Museum. For over a decade he held leadership positions at the Smithsonian's National Museum of American History—developing a major permanent exhibition on the American presidency and an exhibit in Japan exploring the history, culture, and diversity of the United States—before his appointment as president of the Chicago Historical Society in 2001. During his time in Chicago, Bunch transformed the 150-year-old institution into a dynamic and accessible center for scholarly research and community learning. When he returned once again to the Smithsonian, in 2005, to direct the nascent National Museum of African American History and Culture, he began with a single employee and no collections. Today the museum is among the capital's most-visited sites, housed in a LEED-certified "green building," that has fulfilled his early vision for "a place that would make America better." He is a widely published author whose most recent book is A Fool's Errand: Creating the National Museum of African American History and Culture in the Age of Bush, Obama, and Trump, published in 2019.
Among his many honors, Bunch was appointed by President George W. Bush (and subsequently reappointed by President Barack Obama) to the Committee for the Preservation of the White House; was awarded the NAACP's National Equal Justice Award in 2019; and received the Society of American Historians' Tony Horwitz Prize in 2021—the same year that he was recognized with France's highest award, the Legion of Honor.
Bunch and his wife, Maria Marable-Bunch, live in Washington, D.C., and are the parents of two adult daughters.
Photos courtesy of Robert Stewart, Smithsonian Institution, and Allison Shelley